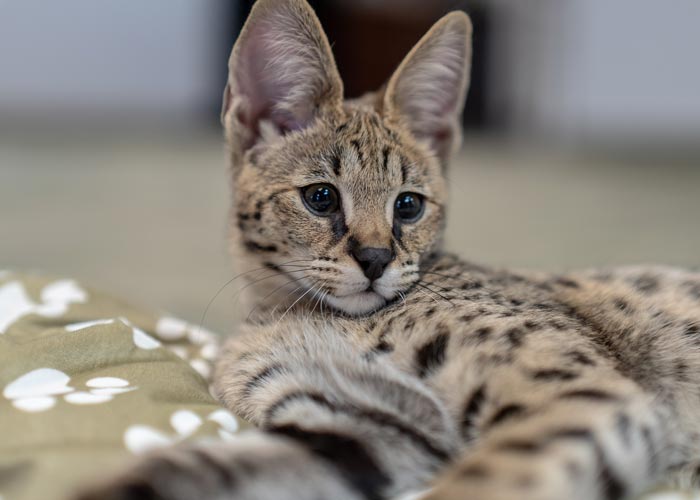 My name is Karla White, I live in a small town in Michigan. I have always loved and owned cats. I first became interested in the Savannah breed while I was researching Siamese cats. When I first saw savannahs I fell in love with them and wanted to get involved with promoting this relatively new breed and educating others about them. I began Moonlight Savannahs, LLC in 2012 with the intention of breeding Savannah cats in my home.
Becoming A Savannah Cat Breeder
Being new to the world of breeding at that time, I did not realize how "green" I was. It certainly takes more than a love for cats to be a responsible and ethical breeder. In my case, I learned the hard way through a series of unfortunate events.
In 2012 I purchased three savannah kittens, one male, and two female, from a breeder in another state. I thought I had done a thorough search for a good breeder. Unfortunately, the breeder from whom I purchased my kittens were running a kitten mill. Although their ads claimed that they were the first and foremost of Savannah cat breeders, these claims turned out to be false. The litters that my three parent-cats produced started getting sick. Many of my precious kittens died; I was devastated.
After my veterinarian suggested necropsies on some of the kittens, we learned they had died from feline infectious peritonitis (FIP). After doing some research on this and consulting with several veterinarians, the consensus is that it is not uncommon for breeders to see this in a cat every now and then (see our section on viral testing). However, it is more commonly found in multiple cats when they have been living within large populations of cats in poor conditions-as in a kitten mill.
I eventually recovered after this horrible loss of my cattery, and have done a great deal of research and self-education on the industry of breeding felines, in particular, Savannah cats. My savannah cats have their own designated home on my property which was designed following the advice of leading experts in preventing infectious disease in cats. I have also learned a great deal about the right way to responsibly breed beautiful, high-quality, wild-looking savannah cats from my mentor, Doreen Boileau of Drinkwater Cats, and also from The Savannah Cat Association.
Moonlight Savannahs prides itself on being a very clean, modern, up-to-date breeding facility in which our cats enjoy a healthy environment to live, play, and produce beautiful, quality exotic looking kittens that would love to be a part of your family. See the book, "Feline Husbandry" by Dr. Niels C. Pedersen of the School of Veterinary Medicine at UC Davis, 1991.